Responsible Adulting. Our list of chores are never done. But now that people
are putting up their Halloween decorations, picking apples, and making holiday
plans, it's also time to face some fall chores. Wait, don't go! I know no one
likes doing this stuff, but some of it's really important, and you can reward
yourself with a trip to the pumpkin patch and an apple cider hot toddy when
you're done.
Outdoor Fall Chores
1. Store patio furniture. Wash down the table & chairs, stash chair cushions and umbrellas someplace where they'll stay clean and dry for the winter.
2. Bring in plants. Back in the day, Mom used to put her houseplants outside for "fresh summer air". If you have plants that won't survive colder temperatures, it's time to bring them inside. Do it when temps are still warm during the day so they don't go into shock.
3. Drain and store garden hoses. Let's face it – thawing a frozen hose that was left out all winter is no fun … especially if the pipe that leads to theoutdoor faucet bursts!.
4. Check gutters and downspouts. A little later in the season, after the trees have dropped their leaves, clear the debris from your gutters. If you don't like climbing ladders or your home is taller than you wish to climb, hire someone! It will be worth it!
5. Prep your fireplace. If you have a fireplace or woodstove you'll be using over the winter, clean it, and get your chimney cleaned and inspected by a professional.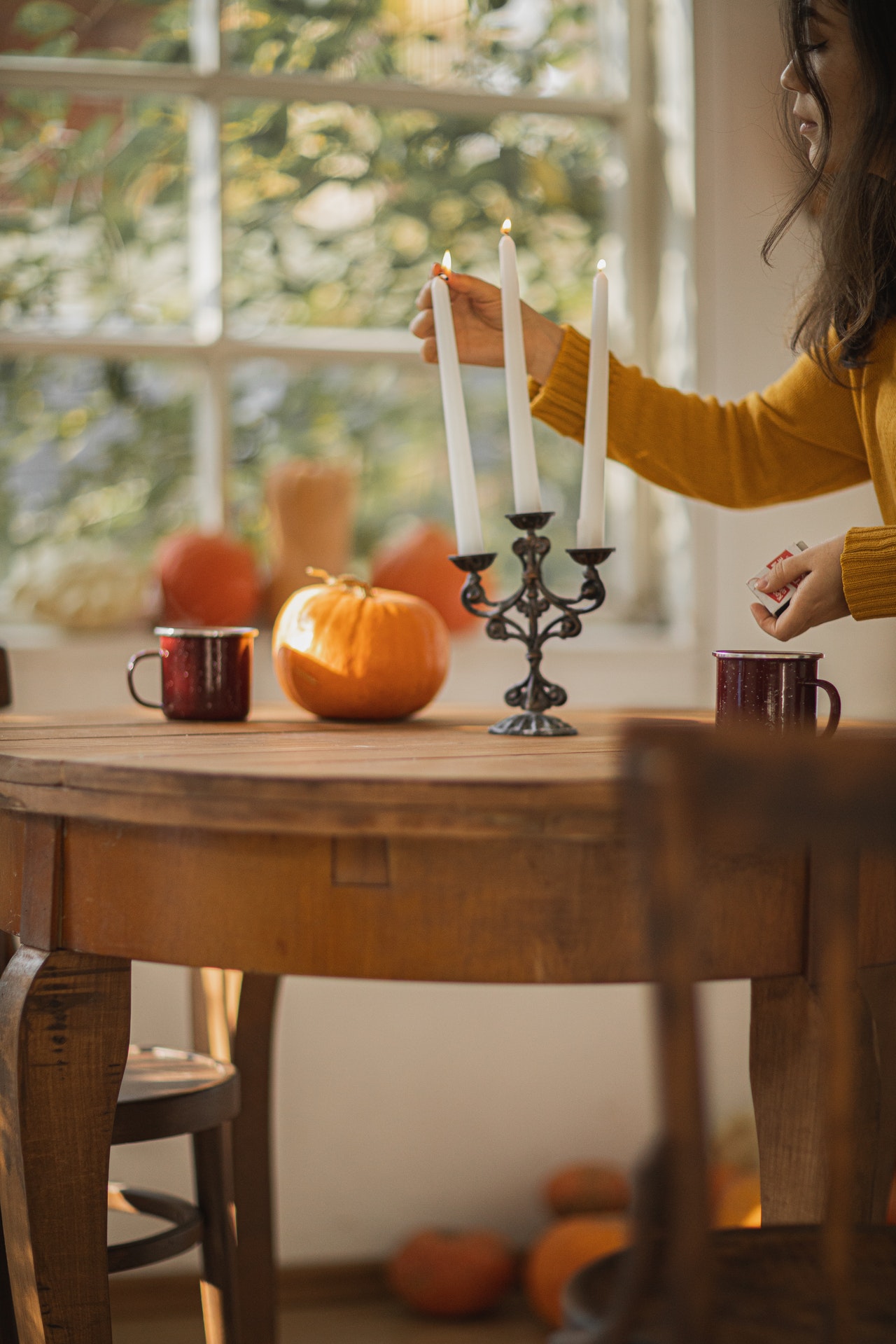 Indoor Fall Chores
6. Clean out vents and replace furnace filters. Vacuum and wipe down dusty vent covers and ducts.
7. Check smoke detectors, carbon monoxide detectors, and fire extinguishers. This is even more important if you have a fireplace or woodstove you plan to use!
8. Candle / Flashlight Backup. With colder weather, comes storms. And sometimes power outages! Have some candles ready to go along with a lighter and a fresh supply of batteries in your flashlights.
9. Wash all of your linens. Now is a good time to wash all of the stuff you don't clean more regularly. Mattress covers, pillow inserts, duvets, curtains, and throw blankets all collect dust and grime, and could do with a cleaning before you'll be spending more time cooped up with them.
10. Switch the direction of your ceiling fans. During the colder months, you want the blade to rotate clockwise, forcing the warm air that rises up to the ceiling to circulate around the room instead.
Ok … so maybe we don't do all these tasks (or maybe added a few more?). Who said "adulting" would be fun? Now let's head out to the nearest corn maze or Fall Fest and enjoy ourselves! See you there!